Practical information - Access
/!\ Reservations are strongly recommended /!\
(Especially during July and August, and when it is raining)
Terms of access
• We accept children in our guided tours if they are at least 5 years old, not recommended for people with precarious health (mountain path with 80 meters of elevation gain : 10-15 minutes)
• groups are limited at 19 people
• Fitted shoes (hiking or sport shoes) and warm clothes are recommended (10°C underground).
• Provide yourself with rain clothes in case of bad weather.
• Carpooling or provided shuttles (During July and August) between the Museum and the Mine's parking.
• The meeting point is at the Mines' Museum, located in the southern part of L'Argentière- La Bessée (With a suitable parking for big buses).
• The Museum can welcome groups for picnic in the outdoor parc or inside in case of bad weather (drinkable water, trashes, toilets, with reservation).
Tours possibilities
Groups:
All year long with reservation (during snowfree times)
Individuals:
From half June to half September: every day, guided tours departures from 9 a.m. to 5 p.m.
From March to November, you can ask for informations by phone or e-mail to know days and time possibilities.
Prices:
Classic guided tour:
12€ - reduced price (group of 10 people and more, jobseekers, students, large families, partners, upon presentation of proof)
10€ for children under 16
9€ reduced price for children under 16 (group of 10 people and more, large families, partners, upon presentation of proof)
Museum only (self-guided visit of the exposition and video):
Free for children under 11
We accept bank cards and cash.

How to come to the museum without a personal vehicule?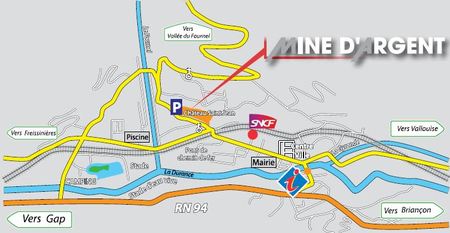 The Silver mines' museum is located 10-15 minutes walking from l'Argentière-les Ecrins train station.
Then we can organize carpooling with the other visitors, and there is a shuttle during the summer school holidays.
Do not hesitate to use more environmentally friendly transports !